Observer Cronkite Dead: "And that's the way it is."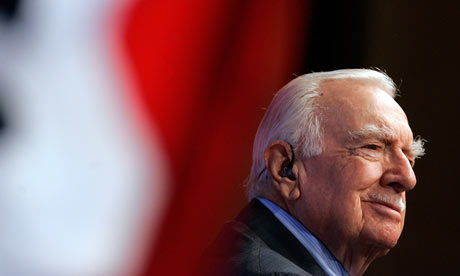 CBS news legend Walter Cronkite in 2005 Photograph: Jessica Rinaldi/Reuters

The other icon of American broadcaster, Edward R. Murrow recruited Cronkite to come join CBS News in the early 1950s from where he retired in 1981 at age 64. Americans asked rhetorically, "Oh, my God -- what are we going to do without Walter Cronkite?" link

Reams would be written about him. Here, at Desicritics we would like to share Cronkite in his own words.

"And that's the way it is." [this was his signature sign off]

"I think it is absolutely essential in a democracy to have competition in the media, a lot of competition, and we seem to be moving away from that."

"Our job is only to hold up the mirror — to tell and show the public what has happened." link

Probably the most important single element that I found in my own marriage was a sense of humor. My wife had a delicious sense of humor, and I think I have an adequate one. The funny things Betsy did to me on an almost daily basis could fill up one of those old Sears, Roebuck catalogs. She just wouldn't take things seriously that didn't need to be taken seriously. It was tough for us to get together and try to solve a serious problem because humor would begin to creep in -- which would save the day most of the time. link



I grew my mustache when I was nineteen in order to look older. I never shaved it off even though it overran its usefulness many, many years ago. Once you get started in television, people associate you with your physical appearance -- and that includes the mustache. So I can't shave it off now. If I did, I'd have to answer too much mail. link

After hearing his strong views on Vietnam, which happened to coincide with my own, I fell into a trap which always lies there for the unwary newsman who succumbs to the heady narcotic of being on the inside. I became a player rather than observer. link



Jeff Gralnick is a 50-year veteran of broadcast news who was fortunate enough to work for and with Walter Cronkite from 1961 to 1970. Here are his reminisces.
Chuck Barney had the 'audacity' to ask Walter Cronkite how he would like to be remembered: "I want them to say, 'He was someone who lived up to the principals of good journalism through the fairness and honesty of his coverage, and upheld those principles throughout his career.' "


Further reading:
Anchor's Away: The Life of Walter -Art Buchwald
LAT Obituary