As I have ventured out to write, the enormity of Delhi -- the idea -- haunts me. Where do I start? The layered construction of Indian, and Muslim identities in the subcontinent emanate from the ridges and Hades of Delhi. The saints buried under its red-brown earth impacted the society and culture for times to come. Now viewed as a global 'problem', the Muslims augmented the diversity of an already wondrous India. What is known as the [north] Indian cuisine, albeit of the non-vegetarian v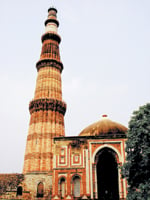 ariety, is a Muslim innovation and so are tunes of Hindustani, classical music, the strings of a sitar and the rhythms of tabla. Ten centuries of cultural hybridization resulted in Urdu and current day Hindustani the idiom for northern India and the much-celebrated Bollywood.
Delhi's history also underwrites the secular tradition. Save the unsavoury and brief spells of intolerance, governance was largely a secular feat. Whilst Europe was grappling with intra-Christianity fissures, Akbar was holding inter-faith dialogues and Dara Shikoh in his Delhi library was translating the Bible and the Upanishads in Persian.